Taketatsu Ayana - Innocent Notes detail single cd watch official pv youtube lyrics kanji romaji
Opening anime Grimms Notes The Animation
Taketatsu Ayana promosikan single (moshimoshi-nippon.jp)
Innocent Note
merupakan single milik Seiyuu dan Penyanyi pop asal Prefektur Saitama, Jepang bernama
Taketatsu Ayana
. Penyanyi kelahiran 1989 yang berafiliasi dengan Link Plan ini juga merupakan anggota duo grup
petit milady
, bersama dengan sesama penyanyi dan seiyuu
Yuuki Aoi
. Ayana aktif sebagai seorang seiyuu sejak tahun 2009, dan debut sebagai penyanyi pada 2012.
Innocent Note
dirilis pada 6 Februari 2019 sebagai single ke-11 Taketatsu Ayana, dalam CD+DVD edisi terbatas seharga 1944 yen dan CD edisi anime seharga 1404 yen. Selain lagu Innocent Note, terdapat lagu
Nenjuu Ai wa Mukyuu
yang mengisi track kedua di semua edisi. Bonus DVD dalam edisi terbatas berisikan 2 video, yaitu video musik Innocent Note dan pembuatannya. Sementara edisi anime terdapat versi tv size dari lagu Innocent Note. Single ini menduduki posisi #22 dalam
Oricon Weekly Chart
Melalui lagu Nenjuu Ai wa Mukyuu, Ayana berkolaborasi dengan toko mie Mita, lagu yang menggambarkan rasa cinta Ayana terhadap mie favoritnya itu ditayangkan di setiap toko mie Mita selama 21 Januari - 23 Maret. Selain itu, beberapa produk dari kolaborasi mereka ini juga dijual selama periode kolaborasi berlangsung
Taketatsu Ayana (natalie)
Taketatsu Ayana (natalie)
Versi pendek video musik Innocent Note di unggah melalui channel YouTube milik Anime PONY CANYON, bisa anda saksikan langsung dibawah ini!
Innocent Note digunakan sebagai lagu pembuka anime
Grimms Notes The Animation
bersama dengan lagu penutup
i ☆ Ris - Endless Notes
. Ayana berkomentar,
"Saya sangat senang memiliki kesempatan untuk menyanyikan lagu tema pembuka serial anime TV 'Grimms Notes The Animation'! 'Innocent Notes' adalah trek cepat yang mencerminkan anime ini sendiri dan melodi yang mengasyikkan. Lagu ini berbicara agar anda membuat cerita anda sendiri, tidak mengikuti cerita yang sudah terjadi. Saya menantikan semua orang untuk menonton serial ini!"
Grimms Notes The Animation (moshimoshi-nippon.jp)
Grimms Notes The Animation merupakan anime yang diadaptasi dari sebuah game android dan iOS, tayang pada 10 Januari 2019 di TBS. Berlatar dunia yang diciptakan oleh eksistensi yang disebut "Story Teller". Sejak lahir, semua orang yang ada di dunia ini dikaruniai sebuah buku bernama "Book of Fate" yang berisi pedoman hidup (role) dari lahir hingga akhir hidup mereka. Semua berjalan damai hingga pada akhirnya ada Story Teller jahat yang mencoba untuk mengubah alur cerita dengan menebar teror melalui monster-monster bernama "Villain". (kaorinusantara.or.id)
Berikut adalah lirik lagu
Taketatsu Ayana - Innocent Note
Lyrics : Nakamura Kanata
Music : Tsukada Kohei
Kanji
Innocent Notes
決められた 世界飛び出して
自由な空へ

借りたガラスの靴では上手に歩けない
眩しい明日のカタチを目を細めて探る

ねえ 今また私
台本どおり動いてなかったかしら?
きっと同じ答えをまた選ぶはず
何度(何度) ここで(ここで) 試されたとしても

Innocent Notes
世界に一つの物語
たしかに 密かに 綴られてる
夜空の終わりには 今日も名前のない
小さな星が瞬いてる
キミがstoryになれ

冷たい氷を溶かした優しい言葉の風
ウソを反射するだけの鏡は割ってしまえ

自分になるため 生まれてきたの
たとえ運命じゃなくても
だって大事なのは溢れ出る気持ち
アツイ(アツイ) 想い(想い) 強く導く方へ

Innocent Notes
無防備なハートは傷つくけど
無邪気さは失わずいたいよね
アンバランスにバランスを取っている
行き着く先を知らなくてもいいよ

未来は真っ白で
逃げ出したいと思う日もあるけど
挟んだ栞 辿って
もらった勇気 背中を押すよ

Innocent Notes
世界に一つの物語
たしかに 密かに 綴られてる
夜空の終わりには 今日も名前のない
小さな星がきっと…

Innocent Notes
無防備なハートは傷つくけど
無邪気さは失わずいたいよね
アンバランスにバランスを取っている
行き着く先を今は 知らないとしても
歩き出そう
キミがstoryになる
Romaji
Innocent Notes
kimerareta sekai tobidashite
jiyuu na sora e

karita garasu no kutsu de wa jouzu ni arukenai
mabushii ashita no katachi wo me wo hosomete saguru

nee ima mata watashi
daihon doori ugoitenakatta kashira?
kitto onaji kotae wo mata erabu hazu
nando (nando) koko de (koko de) tamesareta to shitemo

Innocent Notes
sekai ni hitotsu no monogatari
tashika ni hisoka ni tsuzurareteru
yozora no owari ni wa kyou mo namae no nai
chiisana hoshi ga matataiteru
kimi ga story ni nare

tsumetai koori wo tokashita yasashii kotoba no kaze
uso wo hansha suru dake no kagami wa watte shimae

jibun ni naru tame umarete kita no
tatoe unmei janakutemo
datte daiji na no wa afurederu kimochi
atsui (atsui) omoi (omoi) tsuyoku michibiku hou e

Innocent Notes
muboubi na haato wa kizutsuku kedo
mujakisa wa ushinawazu itai yo ne
anbaransu ni baransu wo totteiru
ikitsuku saki wo shiranakutemo ii yo

mirai wa masshiro de
nigedashitai to omou hi mo aru kedo
hasanda shiori tadotte
moratta yuuki senaka wo osu yo

Innocent Notes
sekai ni hitotsu no monogatari
tashika ni hisoka ni tsuzurareteru
yozora no owari ni wa kyou mo namae no nai
chiisana hoshi ga kitto…

Innocent Notes
muboubi na haato wa kizutsuku kedo
mujakisa wa ushinawazu itai yo ne
anbaransu ni baransu wo totteiru
ikitsuku saki wo ima wa shiranai to shitemo
arukidasou
kimi ga story ni naru
* Lyrics from
https://www.lyrical-nonsense.com/lyrics/ayana-taketatsu/innocent-notes/
Single Taketatsu Ayana - Innocent Notes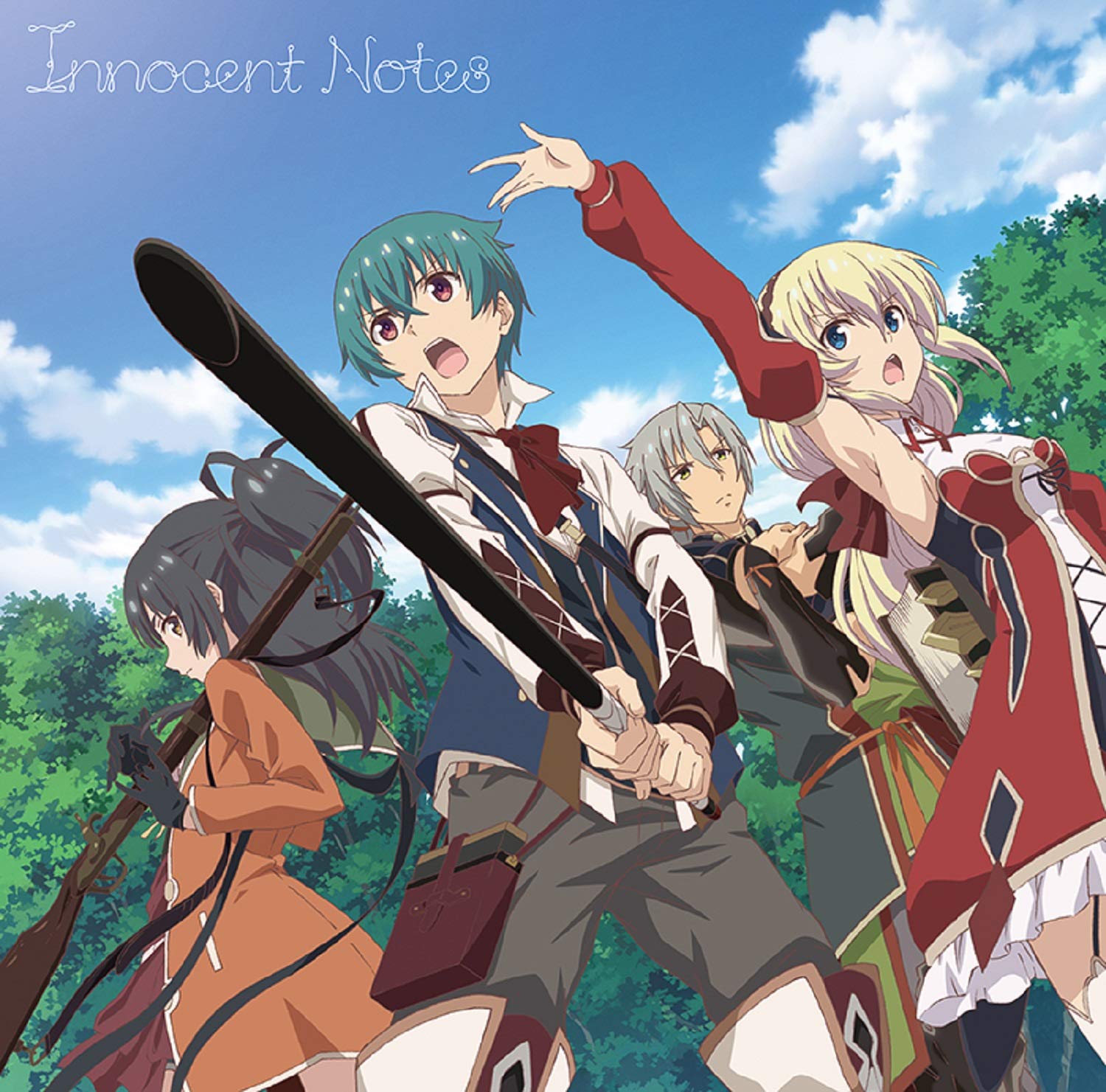 anime edition cover (generasia.com)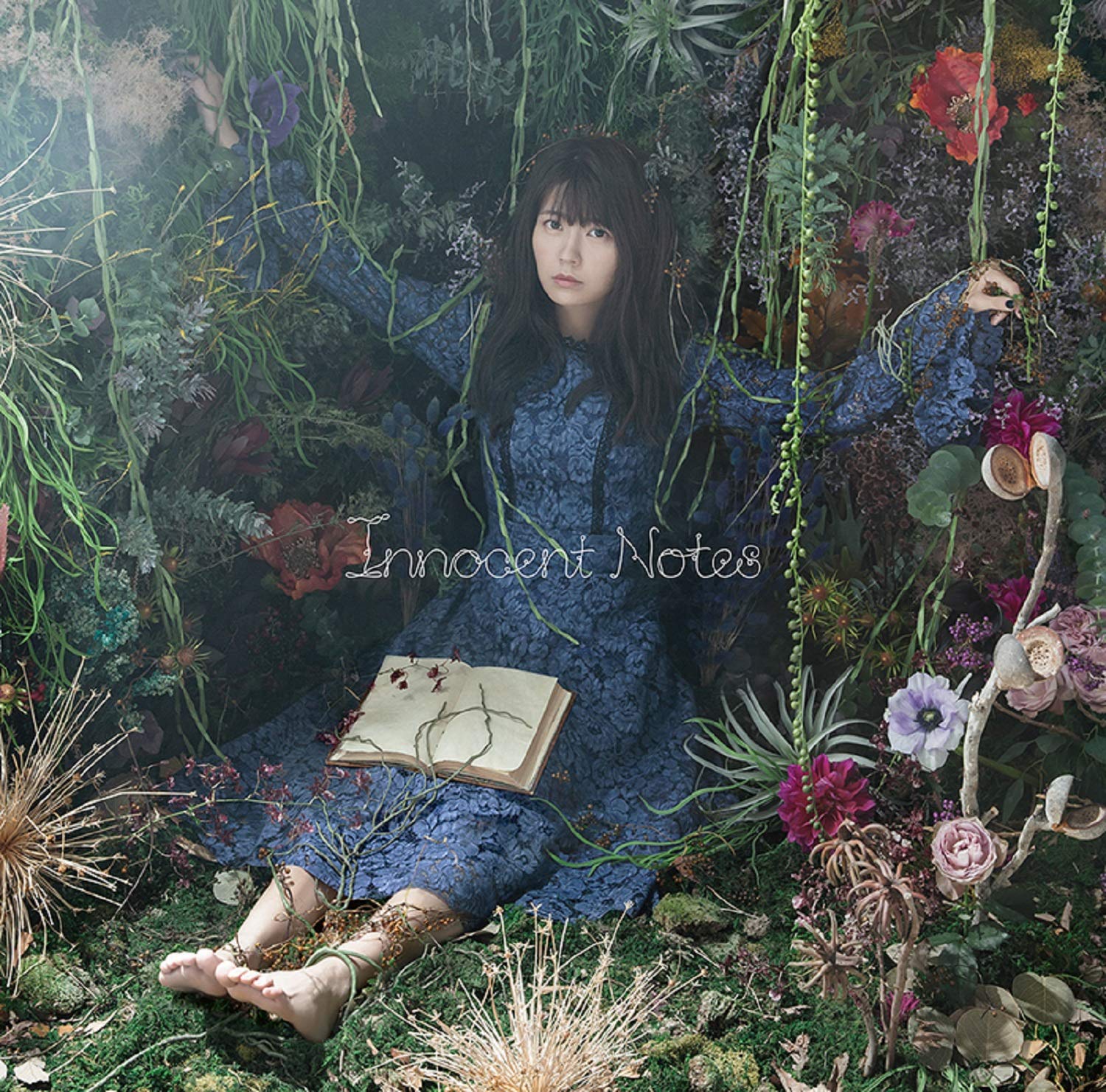 limited edition cover (generasia)
CD Tracklist
Limited Edition
Innocent Notes
Nenjuu Ai wa Mukyuu (年中・愛は・無休)
Innocent Notes (Instrumental)
Nenjuu Ai wa Mukyuu (Instrumental)
Anime Edition
Innocent Notes
Nenjuu Ai wa Mukyuu (年中・愛は・無休)
Innocent Notes (TV size ver.)
Innocent Notes (Instrumental)
Nenjuu Ai wa Mukyuu (Instrumental)
DVD Tracklist
Innocent Notes (MUSIC VIDEO)
Innocent Notes MUSIC VIDEO MAKING