Little Glee Monster FLAVA album detail tracklist CD+DVD live
(Little Glee Monster Promosikan album FLAVA / source : generasia.com)
FLAVA
merupakan studio album milik grup idol Jepang
Little Glee Monster
. Album ini menjadi album ke-4 mereka yang dirilis pada 16 Januari 2019 dalam 3 versi, yaitu CD edisi reguler dan CD+DVD edisi terbatas tipe A dan B.
CD album ini terdapat 2 disk, disk 1 berisikan 12 lagu termasuk 6 lagu yang sebelumnya sudah dirilis dalam single pada 2018, yaitu single
Sekai wa Anata ni Waraikakete Iru
dan
MY HOME
yang mengisi track #2 single tersebut, dan single
Natsu ni Natte Utae
dan
My Brand New Day
yang mengisi track kedua dalam singlenya, dan juga lagu
Gyutto
dan
CLOSE TO YOU
yang dirilis sebagai single ke-11. Terdapat juga lagu yang berasal dari tur konser mereka pada 2018, yaitu lagu
Everything could be your chance
yang juga menjadi lagu penutup album. Sementara disk 2 berisikan live CD yang berisikan 5 track.
Natsu ni Natte Utae digunakan sebagai
Maxell Aqua Park Shinagawa "Hanabi Aquarium BY NAKED" lagu kolaborasi pertunjukan Dolphin "juice !!!!!"
. My Brand New Day digunakan sebagai
lagu pembuka kampanye Nihonbashi Takashimaya S.C.
Sekai wa Anata ni Waraikakete Iru digunakan untuk
lagu promosi produk Coca-Cola
. dan lagu baru dalam album ini
I BELIEVE
digunakan sebagai
theme song program sepak bola "ASIAN ELEVEN"
.
DVD tipe A berisikan video konser mereka pada 21 Oktober
"Little Glee Monster Live Tour 2018~Calling!!!!!" Tokyo Kokusai Forum
, terdapat 13 track dalam video ini. Tipe B berisikan spesial dokumentasi
Kotoshi Kaisai Sareta Asia Tour "Little Glee Monster Asia Tour 2018 - juice !!!!! -"
.
Album ini berhasil menduduki posisi teratas dalam
Oricon Weekly Chart
Little Glee Monster - FLAVA (album)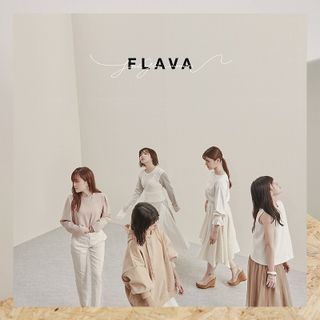 (regular edition cover / source : generasia.com)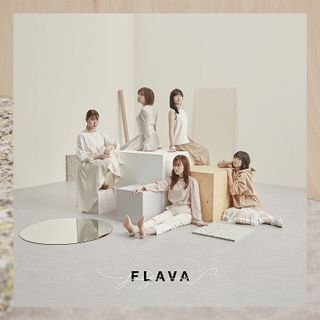 (limited edition A cover / source : generasia.com)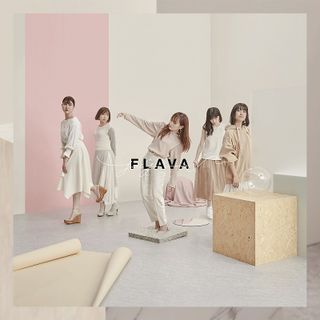 (limited edition B cover / source : generasia.com)
CD Tracklist
Disc 1
Sekai wa Anata ni Waraikaketeiru (世界はあなたに笑いかけている)
Gyutto (ギュッと)
I BELIEVE
Happiness (ハピネス)
Koi wo Aserazu (恋を焦らず)
CLOSE TO YOU
Kimi no Koto (君のこと)
MY HOME
Aoi Kaze ni Fukarete (青い風に吹かれて)
Everything could be your chance -From Live Tour 2018~Calling!!!!!-
Disc 2 - Live CD
Sekai wa Anata ni Waraikaketeiru -winter ver.-
DANCING QUEEN ( ABBA cover)
Motown Super Medley -Live on 2018.03.25-
a cappella medley -Live on 2018.10.24-
Sekai wa Anata ni Waraikaketeiru -Lead Vocal Off Ver.-
DVD Tracklist
Limited Edition Type A
10/21 "Little Glee Monster Live Tour 2018~Calling!!!!!" Tokyo Kokusai Forum
Opening ~Welcome to Calling!!!!!~
Dakara, Hitori Janai (だから、ひとりじゃない)
Hop Step Jump!
CLOSE TO YOU
Aoi Kaze ni Fukarete (青い風に吹かれて)
Chiisana Koi ga, Owatta (小さな恋が、終わった)
a cappella medley
Gyutto (ギュッと)
Suki da. (好きだ。)
OVER
SAY!!
Sekai wa Anata ni Waraikaketeiru (世界はあなたに笑いかけている)
Ending ~Thank you for Calling!!!!!~
Limited Edition Type B
Kotoshi Kaisai Sareta Asia Tour "Little Glee Monster Asia Tour 2018 - juice !!!!! -" no Special Documentary (今年開催されたアジアツアー「Little Glee Monster Asia Tour 2018 - juice !!!!! -」のスペシャルドキュメンタリー)
Untuk lirik lagu/terjemahan dari ke-12 lagu dalam album ini, bisa dilihat di label
Little Glee Monster
atau gunakan kolom pencarian blog ini! (Akan segera dipost)