RADWIMPS - PAPARAZZI ~*Kono Monogatari wa Fiction Desu~ (lyrics+english) | Track #9 Album ANTI ANTI GENERATION
RADWIMPS - PAPARAZZI ~*Kono Monogatari wa Fiction Desu~ watch mv lyrics kanji romaji english
Baca juga detail albumnya,
RADWIMPS - ANTI ANTI GENERATION (Album) | Kolaborasi Pertama RADWIMPS dengan Para Musisi Papan Atas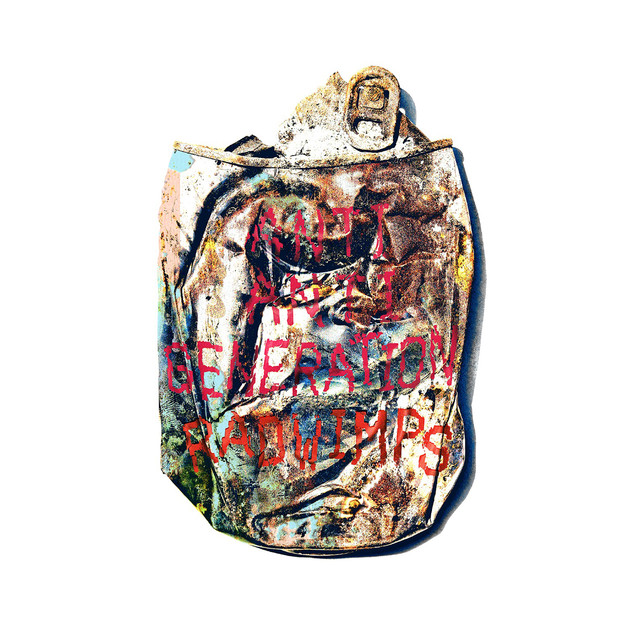 Album ANTI ANTI GENERATION cover (generasia.com)
Kanji
ねぇねぇお父さんお父さん
今度の国語の宿題で
お父さんのお仕事って
課題で明日までに作文書くの
皆の前で発表もしなきゃで
本当に嫌だけど頑張るよ
先生も皆のお父さんの自慢を楽しみにしてるって
そうかい いいかいお父さんの
仕事は普通とはちょっと違う
大きな意味では世の中の人に
娯楽を提供してるんだ
役者さんミュージシャン
スポーツ選手や著名人
家の前だとか仕事場でも
どんな所だって張り付いて
その人の日々の監視をする
そういう仕事をしてるんだ
そして何か悪さをしたり
面白いことが起こったりすると
それをすかさず記事に書いて
世間の皆に知らせるんだ
体力も根気も無きゃいけない
とても大変な仕事なんだ

何ほざけ
盗撮盗聴尾行張り込み
好きなだけやりたい放題
天誅下したつもりかね
してやったり顔が見え見えで
気持ちがねえどうにもこうにも悪い
あんたらはどれだけ立派な人生なんだ
どの面下げてんなことしてんだ
倫理に反したあんたらが
なに不倫だ不純だいってんだ
国家権力にはへこへこします
弱い者虐めが板に付きます
あんたの子供の頃の夢は
まさかそれじゃなかったよな?
知りたくもねえ必要もねえ
ただ誇りを持ってそれしてんならね
どかどか踏み込んで来る割に
こそこそ逃げたりすんなよあんた
卑怯を絵に書いたあんたの言葉
薄っぺらすぎて悲しくなんさ
「君の名は。」の大ヒット
が起こるとすかさず出てくるゲスなやつ
ぽっと出で出てきたわけじゃねえ
こちとらメジャーで14年
こんな変わり者の俺の音楽を
待ってくれてるファンたちと
絆を一つずつ作り上げ
毎度アリーナツアーやってんだ
馬鹿かそれがなんだ
俺のとこなら百歩譲ったとしても
実家の親の家にへばりついて
堂々直撃してきたな?
息子さん苦節10年 成功して良かったですね
親御さんとしてどうですか?

あんたの親にも聞いたろか
良かったですね息子さん
無事立派に大きく育たれて
朝から車の中で一般市民の家の前張り込んで
嫌がるのを無理矢理話聞いて
許可も取らずに写真撮って
雑誌に載せて稼いだ金で
今日も生きている息子さんに
一言何かありますかないですか
無いわけ無いですよね?
無くても聞いてくるのが息子さん
絞り出してでも言ってごらん

お父さん凄いね
お父さんがいないと
困る人達いっぱいいるね
やっぱかっこいいねお父さん
いつまでも僕の自慢だよ
でも良いかい?中には
父さんのこの仕事を馬鹿にしたり
軽蔑したりする奴もいるんだ
だけど父さんは負けないよ
父さんは胸を張って生きている
求められるからやっている
父さんの仕事を
楽しみにしてる人のために頑張るよ

ハイハイ自分の仕事に自信を
持っているのは結構です
堂々と今日も胸を張って
生きててなによりです
じゃあ尾行がバレてカメラ向けられても
堂々と逃げず答えろや
カップルのふりで隣座って
ストーカーばりに盗み聞くな
人間不信情報不信
頭がおかしくなりかけた
それでもさ 笑うのか?
あんたらにゃ何も伝わらんか
煽って報するテレビが悪い
こぞって食いつく世間が悪い
求められるからやっている
すごいね神様みたいだね
あんたの僅かなマンマのために
世間の僅かな娯楽のために
抹殺された人々は
それでも生きていくんだから
俺はやるべきことをやっている
君は恥ずべきことをやっている
恥ずかしくないと言うのなら
隠れず盗まず生きてろや
目を見て話が出来なくて
なにが堂々と生きてるだ

お父さん書いたよ頑張ったよ
明日の発表楽しみだ
皆の前で胸を張って
大きな声で読んでくるね
ありがとな 本当にな
お前は誇れる息子だな
そうだ明日のことだけど
しばらく休みもなかったし
一緒に遊んでやれなかったから
家族旅行にでもいこうか
だから学校は休んで良いぞ
先生たちには内緒でな
Romaji
nee nee otousan otousan
kondo no kokugo no shukudai de
otousan no oshigoto tte
kadai de ashita made ni sakubun kaku no
minna no mae de happyou mo shinakya de
hontou ni iya dakedo ganbaru yo
sensei mo minna no otousan no jiman wo tanoshimi ni shiteru tte
sou kai ii kai otousan no
shigoto wa futsuu to wa chotto chigau
ookina imi de wa yo no naka no hito ni
goraku wo teikyou shiterunda
yakushasan myuujishan
supoutsu senshu ya chomeijin
ie no mae da toka shigotoba demo
donna tokoro datte haritsuite
sono hito no hibi no kanshi wo suru
souiu shigoto wo shiterunda
soshite nanika warusa wo shitari
omoshiroi koto ga okottari suru to
sore wo sukasazu kiji ni kaite
seken no minna ni shiraserunda
tairyoku mo konki mo nakyaikenai
totemo taihen na shigoto nanda

nani hozake
tousatsu touchou bikou harikomi
suki na dake yaritai houdai
tenchuu kudashita tsumori ka ne
shiteyattari kao ga miemie de
kimochi ga nee dou ni mo kou ni mo warui
antara wa dore dake rippa na jinsei nanda
dono tsurasageten na koto shitenda
rinri ni hanshita antara ga
nani furin da fujun da ittenda
kokka kenryoku ni wa hekoheko shimasu
yowaimono ijime ga ita ni tsukimasu
anta no kodomo no koro no yume wa
masaka sore janakatta yo na
shiritaku mo nee hitsuyou mo nee
tada hokori wo motte sore shiten nara ne
dokadoka fumikonde kuru wari ni
kosokoso nigetari sunna yo anta
hikyou wo e ni kaita anta no kotoba
usuppera sugite kanashiku nan sa

"kimi no na wa." no daihitto
ga okoru to sukasazu detekuru gesu na yatsu
pottode de detekita wake janee
kochitora mejaa de juuyonen
konna kawarimono no ore no ongaku wo
mattekureteru fantachi to
kizuna wo hitotsuzutsu tsukuriage
maido ariina tsuaa yattenda
baka ka sore ga nanda
ore no toko nara hyappo yuzutta toshitemo
jikka no oya no ie ni hebaritsuite
doudou chokugeki shitekita na
musukosan kusetsu juunen seikou shite yokatta desu ne
oyagosan toshite dou desu ka
anta no oya ni mo kiitaro ka
yotta desu ne musukosan
buji rippa ni ookiku sodatarete
asa kara kuruma no naka de ippan shimin no ie no mae harikonde
iyagaru no wo muriyari hanashi kiite
kyoka mo torazu ni shashin totte
zasshi ni nosete kaseida kane de
kyou mo ikiteiru musukosan ni
hitokoto nani ka arimasu ka nai desu ka
nai wake nai desu yo ne
nakutemo kiitekuru no ga musukosan
shiboridashite demo itte goran

otousan sugoi ne
otousan ga inai to
komaru hitotachi ippai iru ne
yappa kakkoii ne otousan
itsumademo boku no jiman da yo
demo ii kai? naka ni wa
tousan no kono shigoto wo baka ni shitari
keibetsu shitari suru yatsu mo irunda
dakedo tousan wa makenai yo
tousan wa mune wo hatte ikiteiru
motomerareru kara yatteiru
tousan no shigoto wo
tanoshimi ni shiteru hito no tame ni ganbaru yo

hai hai jibun no shigoto ni jishin wo
motteiru no wa kekkou desu
doudou to kyou mo mune wo hatte
ikitete nani yori desu
jaa bikou ga barete kamera mukeraretemo
doudou to nigezu kotaero ya
kappuru no furi de tonari suwatte
sutoukaa bari ni nusumigikuna
ningen fushin jouhou fushin
atama ga okashikunari kaketa
sore demo sa warau no ka?
antara nya nanimo tsutawaran ka
aotte houjiru terebi ga warui
kozotte kuitsuku seken ga warui
motomerareru kara yatteiru
sugoi ne kamisama mitai da ne
anta no wazukana manma no tame ni
seken no wazukana goraku no tame ni
massatsusareta hitobito wa
soredemo ikiteikunda kara
ore wa yaru beki koto wo yatteiru
kimi wa hazubeki koto wo yatteiru
hazukashikunai to iu no nara
kakurezu nusumazu ikitero ya
me wo mite hanashi ga dekinakute
nani ga doudou to ikiteru da

otousan kaita yo ganbatta yo
ashita no happyou tanoshimi da
minna no mae de mune wo hatte
ookina koe de yondekuru ne
arigato na hontou ni na
omae wa hokoreru musuko da na
sou da ashita no koto dakedo
shibaraku yasumi mo nakatta shi
issho ni asonde yarenakatta kara
kazoku ryokou ni demo ikou ka
dakara gakkou wa yasunde ii zo
senseitachi ni wa naisho de na
English
Hey hey Dad Dad
For our Japanese language class homework
We have to write an essay
About our dad's job
We also have to present it in front of everyone
I really hate it but I'll do my best
Our teacher said they're looking forward to
hearing us talk proudly about our dads
Is that so? You see, your dad's
job is a bit different than what's normal
In a broad sense, I provide amusement
to all the people in the world
Actors, musicians
Athletes and celebrities
Whether in front of their house or at their workplace
No matter the location, I stick to them
And observe that person's day-to-day life
That's the type of work I do
And then, if they do something bad
Or if something interesting happens
Without a moment's delay I turn that into an article
And inform everyone in the world about it
I have to have strength and perseverance
It's a very hard job

What are you prattling about
Secret photography, bugging, shadowing, and stakeouts
You just do whatever you please
Are you trying to pass down divine punishment
Your deceptive face is so obvious
No matter what it's just bad
What type of splendid life do you have
How dare you do the things you do
You all that violate ethics
You talk about adultery and impurity
Yet you're pliant when it comes to power of the state
You're quite accustomed to bullying the weak
Your dream as a kid
Surely wasn't this
You don't even want to know and there's no need
Despite that you do what you do with pride
Compared to how noisily you rush in on others
You sure run away pretty quietly
Your words are painted in cowardice
They're too shallow and sad

When "Your Name." came out as a big hit
Without delay those low-life things appeared
It's not like we just suddenly came from the
countryside out of nowhere
We've been well-know for 14 years
For music from an oddball me
Our fans have waited
And we've built up the bonds with them one by one
We do arena tours every time
Are you an idiot? What is all of that then?
Even if I unwilling give you that much
To go all the way to my parent's home and hang around there
That's a bold direct hit
"Isn't it great that your son has become such a
success over the past 10 years
How do you feel as his parents?"
Well how about asking your parents
Isn't your son great
To be brought up so safely and wonderfully
From morning time he hangs around in a car in
front of average citizens' homes
Forcibly asking hateful things against other's wills
Taking pictures without permission
And then with the money earned from publishing
them in magazines
To your son living like that today
Do you have anything to say? You don't, do you?
You can't possibly not have anything to say
Even if there isn't anything to say, your son still asks
Wringing them out and saying them

Dad is amazing
If Dad weren't around
There would be a lot of troubled people
As expected, you're cool Dad
I'll always be proud of you
But listen, in this world
There are people who make fun of your dad's job
There are people who despise me
However, your dad won't lose to them
I'll stick out my chest with pride and keep living
It's because there's a demand that I do what I do
I do my best for the sake of the people
who look forward to what I do

Yes yes having confidence in your job
There's nothing wrong with that
Boldly having pride today
And living that way is the best
If that's so, then when your cover is blown and
the person faces your camera
Then boldly answer without running away
Don't pretend to be a couple just to sit next to me
Don't eavesdrop like a stalker
Distrusting other people, distrusting the news
To the point of becoming insane
Even then, you're laughing?
Nothing's being conveyed to you all
The TV that fans the flames and spreads the news is evil
Society that groups together and sinks their teeth
into that news is evil
You do it because there's a demand?
That's amazing, it's like you're a god
For the mere sake of whatever you like
For the mere sake of society's amusement
The people who were obliterated
Have to keep on living, so
I'll do what I have to
You'll do disgraceful things
If you say it's not disgraceful
Then live without hiding or stealing
If you can't look me in the eye and talk to me
Then what do you mean you're boldly living?

Dad, I wrote it, I worked really hard
I'm looking forward to tomorrow's presentation
In front of everyone I'll proudly
Read it out in a loud voice
Thanks, really
You're my son that I can be proud of
Ah, about tomorrow
I haven't really had a break in a while
And I haven't been able to play with you so
How about going on a family trip
So it's okay if you don't go to school
We'll keep it a secret from the teachers
* Lyrics translate from
https://lyricstranslate.com/en/paparazzi~*この物語はフィクションです~-paparazzi〜*this-story-is-fiction%3F.html
PAPARAZZI ~*Kono Monogatari wa Fiction Desu~ MV
Mohon maaf jika terjemahan disini masih buruk, saya masih belajar. Terima kasih sudah berkunjung.