ONE OK ROCK - Stand Out Fit In | Single untuk Album Eye of the Storm
(advertisement)
single digital one ok rock Stand Out Fit In streaming MV detail lyrics terjemahan
CM Song Honda Go, Vantage Point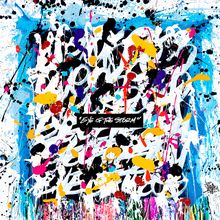 (Cover Digital Single Stand Out Fit In / source : generasia.com)
Stand Out Fit In
merupakan lagu milik band rock Jepang
ONE OK ROCK
. Lagu ini dirilis sebagai digital single ke-10 OOR yang rilis pada 23 November 2018 seharga 250 yen, tersedia di
iTunes
,
mora (AAC)
,
mora (FLAC)
, dan
Recochoku
(Klik untuk melihat). Sama seperti single digital yang sebelumnya mereka rilis yaitu
Change
, Stand Out Fit In juga
digunakan sebagai CM Song untuk iklan produk Honda "Go, Vintage Joint"
.
Kedua lagu yang sudah diedarkan dalam bentuk digital ini nantinya akan menjadi single di
Album Eye of the Storm
, merupakan album ke-9 mereka di jepang serta menjadi album ke-3 di pasar US yang akan dipublikasikan pada 13 Februari 2019 (jepang)/2 hari setelahnya di pasar Internasional yang liriknya
full english
. Berisikan 13 track termasuk salah satu lagu dimana OOR berkolaborasi dengan
Kiiara
lewat lagu
In the Stars
.
Setelah selesai dengan proses rekaman "Stand Out Fit In", Taka (vokalis) berkomentar,
"Untuk album ini, kami menantang dan mendorong diri untuk mencoba hal-hal baru sambil tetap mempertahankan esensi yang ada pada band kami, Saya yakin Anda akan mendengar beberapa hal yang belum pernah Anda dengar dari ONE OK ROCK"
.
ONE OK ROCK juga sudah merilis Video Musik untuk lagu "Stand Out Fit In" yang diunggah di chanel YouTube mereka pada 22 November 2018, anda bisa menontonnya dibawah ini
Berikut adalah
Lirik Lagu dan Terjemahan Stand Out Fit In (japanese version)
I know they don't like me that much
Guess I don't dress how they want
I just wanna be myself, I can't be someone else
— Aku tahu mereka tak begitu menyukaiku
— Kukira aku tak berpakaian seperti yang mereka inginkan
— Aku hanya ingin menjadi diriku sendiri, aku tak bisa menjadi orang lain
Try to color inside their lines
Try to live a life by design
I just wanna be myself, I can't be someone else
Someone else
— Mencoba untuk warnai di dalam garis mereka
— Mencoba untuk menjalani kehidupan sesuai desain
— Aku hanya ingin menjadi diriku sendiri, aku tak bisa menjadi orang lain
— Orang lain
They yell, they preach
I've heard it all before
"Be this", "Be that"
I've heard it before
Heard it before
— Mereka berteriak, mereka menasehati
— Aku pernah dengar semua sebelumnya
— "Jadilah ini", "Jadilah itu"
— Aku pernah dengar sebelumnya
— Mendengarnya sebelumnya
Big boys don't cry
Shoot low, aim high
Eat up, stay thin
Stand out, fit in
Good girls don't fight
Be you, dress right
White face, tan skin
Stand out, fit in
— Anak laki-laki besar tak menangis
— Tembak rendah, bidik tinggi
— Makanlah, tetap kurus
— Tonjolkan diri, menyesuaikan diri
— Gadis yang baik tak berkelahi
— Jadilah dirimu, berpakaian baik
— Wajah putih, kulit cokelat
— Tonjolkan diri, menyesuaikan diri
Stand out, fit in
Stand out, fit in
— Tonjolkan diri, menyesuaikan diri
— Tonjolkan diri, menyesuaikan diri
onaji koto no kurikaeshi de
akiaki shiteiru hibi
tada jibunrashiku aritai
arinomama de Can't be someone else
— Aku lelah dengan hal yang sama
— terus menerus setiap hari
— Aku hanya ingin menjadi diriku sendiri
— Sebagai diriku, tak bisa menjadi orang lain
They yell, they preach
I've heard it all before
"Be this", "Be that"
I've heard it before
Heard it before
— Mereka berteriak, mereka menasehati
— Aku pernah dengar semua sebelumnya
— "Jadilah ini", "Jadilah itu"
— Aku pernah dengar sebelumnya
— Mendengarnya sebelumnya
Big boys don't cry
Shoot low, aim high
Eat up, stay thin
Stand out, fit in
Good girls don't fight
Be you, dress right
White face, tan skin
Stand out, fit in
— Anak laki-laki besar tak menangis
— Tembak rendah, bidik tinggi
— Makanlah, tetap kurus
— Tonjolkan diri, menyesuaikan diri
— Gadis yang baik tak berkelahi
— Jadilah dirimu, berpakaian baik
— Wajah putih, kulit cokelat
— Tonjolkan diri, menyesuaikan diri
Stand out, fit in
Stand out, fit in
Stand out, fit in
Stand out, fit in
— Tonjolkan diri, menyesuaikan diri
— Tonjolkan diri, menyesuaikan diri
— Tonjolkan diri, menyesuaikan diri
— Tonjolkan diri, menyesuaikan diri
I am who I am no matter what
Never changing no matter what
No matter what
— Aku adalah aku tak peduli apa pun
— Tak akan pernah berubah tak peduli apa pun
— Tak peduli apa pun
Big boys don't cry
Shoot low, aim high
Eat up, stay thin
Stand out, fit in
Good girls don't fight
Be you, dress right
White face, tan skin
Stand out, fit in
— Anak laki-laki besar tak menangis
— Tembak rendah, bidik tinggi
— Makanlah, tetap kurus
— Tonjolkan diri, menyesuaikan diri
— Gadis yang baik tak berkelahi
— Jadilah dirimu, berpakaian baik
— Wajah putih, kulit cokelat
— Tonjolkan diri, menyesuaikan diri
Big boys don't cry
Shoot low, aim high
Eat up, stay thin
Stand out, fit in
Good girls don't fight
Be you, dress right
White face, tan skin
Stand out, fit in
— Anak laki-laki besar tak menangis
— Tembak rendah, bidik tinggi
— Makanlah, tetap kurus
— Tonjolkan diri, menyesuaikan diri
— Gadis yang baik tak berkelahi
— Jadilah dirimu, berpakaian baik
— Wajah putih, kulit cokelat
— Tonjolkan diri, menyesuaikan diri
Stand out, fit in
Stand out, fit in
Stand out, fit in
Stand out, fit in
— Tonjolkan diri, menyesuaikan diri
— Tonjolkan diri, menyesuaikan diri
— Tonjolkan diri, menyesuaikan diri
— Tonjolkan diri, menyesuaikan diri
* translate from furaha, untuk versi inggris silahkan ke
https://furahasekai.net/2018/11/23/one-ok-rock-stand-out-fit-in-english-version-lyrics-indonesian-translation/