Lirik Terjemahan lol - power of the dream digital single 7th info Detail lyrics album LmL
OST Fairy Tail Final Season Opening 1 (Opening 23)
(Cover power of the dream / Endless Harmony feat. LOREN (Digital Single) / source : kazelyrics.com)
power of the dream (Kekuatan Mimpi)
adalah lagu milik grup pop Jepang yang dibentuk pada 2014 beranggotakan 5 orang dibawah naungan
avex trax
bernama
lol
(L ya)
. Lagu ini digunakan sebagai
Lagu pembuka pertama anime Fairy Tail Season 9
yang merupakan
season akhir
dari Fairy Tail, dan menjadi opening ke-23 jika dihitung dari season awal. Lagu power of the dream menjadi lagu pembuka Fairy Tail ketika penayangan perdana season terakhir Fairy Tail pada 7 Oktober 2018, saat anime ini mencapai episode 278 yang memasuki arc Avatar.
Setelah mengisi opening sampai episode 290 tepatnya pada 6 Januari 2019, power of the dream akan digantikan opening kedua yang akan dibawakan oleh
THE RAMPAGE from EXILE TRIBE
dengan lagunya berjudul
DOWN BY LAW
.
power of the dream merupakan lagu yang dirilis sebagai digital single ke-7 lol dengan judul
power of the dream / Endless Harmony feat. LOREN
. Dengan cover yang menampilkan karakter utama Fairy Tail yaitu 
Natsu
, single digital seharga 500 yen ini dirilis pada 5 Oktober 2018 di internet dan berisikan 2 track yang menjadi judul single digitalnya. power of the dream juga masuk dalam tracklist studio album ke-2 lol yang berjudul
lml
yang dirilis pada 31 oktober 2018 , lagu ini menjadi track ke-4 dalam CD album lml.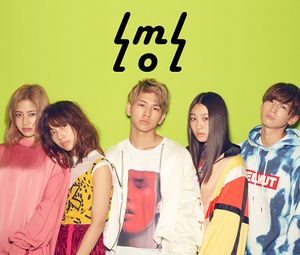 (Cover album lml - regular edition / source : generasia.com)
Berikut adalah
Lirik Lagu dan Terjemahan lol - power of the dream
Lyrics : Giz'Mo (from Jam9)
Composer : ArmySlick, Giz'Mo (from Jam9)
ROMAJI
Donna ni tooku tooku hanarete itatte
Shinji tsudzukete ireba
Nee hora naitenai de kao wo agete
Issho ni mae ni susumou

Doushite shita wo muite
Koboshita namida wo mitsumeteru no
Kyou dame demo kitto ashita tte
Shinjite aruite ikou

Te wo sashinobete kureru hito ga ite
Warai aeru hito ga ite
Ima kono sekai wo kaeru hodo no
Chikara ga umarete iku

Donna ni tooku tooku hanarete itatte
Shinji tsudzukete ireba
Everything is for you for you
Yoru ga akete mou asahi wa noboru
Osorenai de mayowanai de
Egaita yume kanae ni ikou
Nee hora naitenai de kao wo agete
Issho ni mae ni susumou

Tatta ichido no shippai
Tameiki bakari wo kurikaeshite
Mou mawari no hito to kurabete
Ochikon dari shinai de yo

Moshimo ame ni utareru no nara
Tomo ni ame wo kanjiyou
'Hitori ja nai' sono kotoba wa
Yuuki ni kawaru kara

Daichi ni saita hana kimi no yume ga
Zutto karenai you ni
Everything is for you for you
Tsuyoi hizashi mo sou chikara ni kaete
Kurayami demo mienakute mo
Michi wa saki ni tsudzuiteru
Moshimo fuan de mae e susumenai nara
Boku ga te wo nigiru yo

Nando datte kujike-sou ni naru kedo
Sono tabi ni kimi wa tsuyoku natte kita kara

Saigo no saigo nante kimetari shinai de
Nando mo torai shiyou yo
Chansu wa kitto ippo fumidashitara
Matteiru mono dakara

Donna ni tooku tooku hanarete itatte
Shinji tsudzukete ireba
Everything is for you for you
Yoru ga akete mou asahi wa noboru
Osorenai de mayowanai de
Egaita yume kanae ni ikou
Nee hora naitenai de kao wo agete
Issho ni mae ni susumou
INDONESIA
Bagaimana pun jauhnya jarak yang memisahkan kita
Jika kita terus mempercayainya
Hei, jangan menangis dan angkatlah wajahmu
Mari maju ke depan bersama-sama

Mengapa kau menundukkan wajah?
Apakah kau melihat air matamu yang jatuh?
Meski hari ini gagal, masih ada hari esok
Mari mempercayainya dan mulai berjalan

Pasti akan ada seseorang yang menggapaimu
Dan juga tersenyum bersama denganmu
Sekarang dengan mencoba mengubah dunia ini
Kekuatan pun akan tercipta

Bagaimana pun jauhnya jarak yang memisahkan kita
Jika kita terus mempercayainya
Segalanya adalah untukmu, untukmu
Ketika malam berakhir maka matahari akan terbit
Jangan takut dan jangan khawatir
Mari membuat mimpi itu menjadi nyata
Hei, jangan menangis dan angkatlah wajahmu
Mari maju ke depan bersama-sama

Hanya dengan satu kegagalan
Kita menghela nafas entah beberapa kali
Jangan bandingkan dirimu dengan orang lain
Jangan sampai kau merasa putus asa

Meski pun kita diterpa oleh hujan badai
Mari merasakan hujan bersama-sama
"Kita tak sendiri" kata-kata itu
Akan berubah menjadi keberanian

Mimpimu itu seperti bunga yang sedang mekar
Dan takkan pernah layu
Segalanya adalah untukmu, untukmu
Cahaya mentari yang kuat pun akan menjadi kekuatan
Meski pun gelap dan juga tak terlihat
Jalan akan terus berlanjut di depan
Jika kau merasa ragu dan tak bisa maju ke depan
Aku akan menggenggam tanganmu

Meski pun kau merasa frustasi berkali-kali
Maka di saat itu juga kau akan menjadi lebih kuat

Jangan pernah memutuskan bahwa itu adalah akhirnya
Mari mencobanya berkali-kali
Kesempatan pasti datang jika kita mulai melangkah
Karena ia pasti akan menunggu

Bagaimana pun jauhnya jarak yang memisahkan kita
Jika kita terus mempercayainya
Segalanya adalah untukmu, untukmu
Ketika malam berakhir maka matahari akan terbit
Jangan takut dan jangan khawatir
Mari membuat mimpi itu menjadi nyata
Hei, jangan menangis dan angkatlah wajahmu
Mari maju ke depan bersama-sama
Lyrics translate by kazelyrics.com